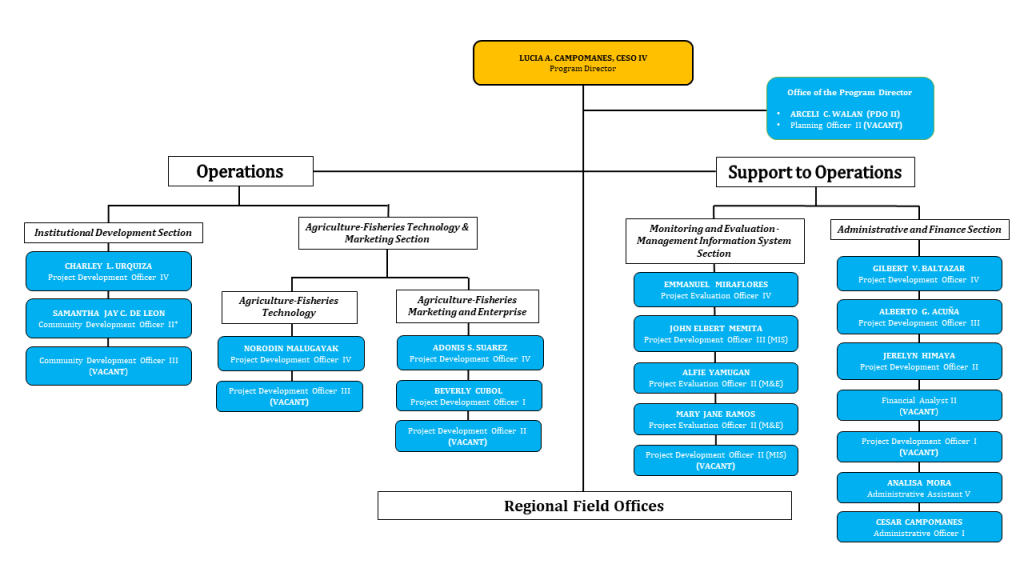 Sections and Functions
---
Institutional Development Section
Identification of AD/IP institutional development activities/program.
Preparation of institutional development activity designs.
Conduct of institutional development activities such as trainings, consultation meetings, workshop, etc.
Preparation of evaluation/assessment tools for IP /AD level of development.
Mentor/Coach the National IP Facilitator in institutional development activities.
Conduct of assessment activity.
Preparation and submission of institutional development status/accomplishment report to concerned section/unit.
Agriculture Fisheries Technology and Marketing Section
Identification of AD/IPS/IPO agricultural development activities.
Preparation/Formulation of AD agricultural development plan.
Conduct/Assist in agricultural & fisheries project validation.
Provision of technical assistance on agricultural development.
Conduct monitoring of agricultural development projects/activities.
Mentor/Coach the National IP Facilitators in agricultural technical activities.
Preparation and submission of agricultural technical status/ accomplishment report to concerned section/unit
Monitoring and Evaluation, Management Information System Section
Coordination with all concerned offices/sections/units for the report system and planning requirements.
Device planning, & monitoring tools/system to facilitate the monitoring and evaluation of program/project accomplishment.
Cascade DA 4K program/project-related planning, monitoring and evaluation to RPMSO.
Preparation and packaging of DA 4K monthly, quarterly, semi-annual and annual reports and its analysis and other demand reports.
Preparation of success stories.
Preparation of report or presentation templates for use of the office and for uniform data requirements.
Formulation of program/project strategies and mechanism to facilitate program/project implementation.
Administrative and Finance Section
Coordination with the DA Finance and Administration for the office requirements and guidance on new office management.
Preparation of DA 4K Project Financial reports and analysis.
Support to operation on the logistic needs of DA 4K Project.
Conduct financial monitoring in RFOs' fund utilization and in the project implementation.